New York Metro: NYC Chapter Headshots and Networking
10/18/2022 05:00 PM - 07:30 PM ET
Admission
Location
New York, NY
Description
Open to members!
WiT Members: Login to purchase your discount ticket.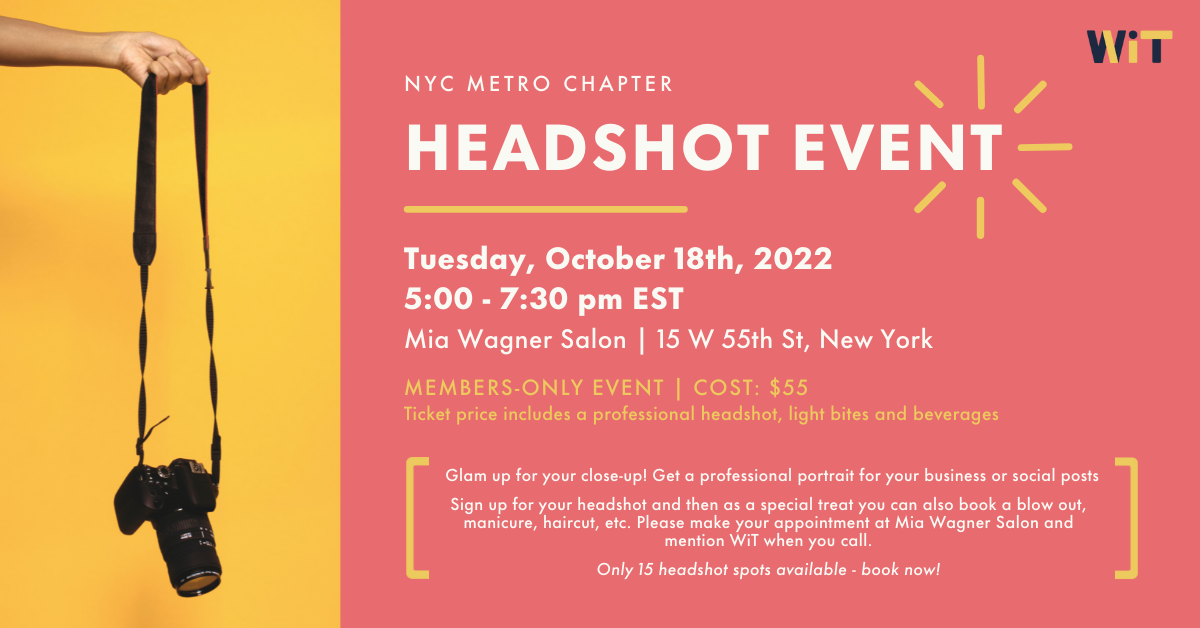 NYC Chapter Headshots and Networking
Join the New York Chapter for a fun night of headshots, inspiration and great networking.
Put on your best smile and meet photographer Brooke Alexander, who has worked with over 400 nationally touring bands and celebrities, as well as empowering women's organizations, and was lead photographer for the NYC Women's March.
Onsite glam services will be available to book directly through the Mia Wagner Salon. Sign up here for your headshot and then as a special treat you can book a blow out, manicure, haircut, etc. Please make your appointment at Mia Wagner Salon and mention WiT when you call to book a service.
- Blowdry $75
- Manicure $40
- Haircut $160
Ticket price includes a professional headshot, light bites and beverages. This is a members-only event. Don't need a headshot but still want to glam up and chat up with fellow WIT members rsvp for $10 to mix and mingle.

DATE: Tuesday, October 18, 2022
TIME: 5:00 PM - 7:30 PM EST
LOCATION: Mia Wagner Salon, 15 W 55th St, NY 10019
COST: WiT Members: $55
RSVP by Friday October 14th
Sponsored In Part By: