Visualize & Energize 2022: Vision Boarding Workshop
01/24/2022 03:00 PM - 03:00 PM ET
Admission
Description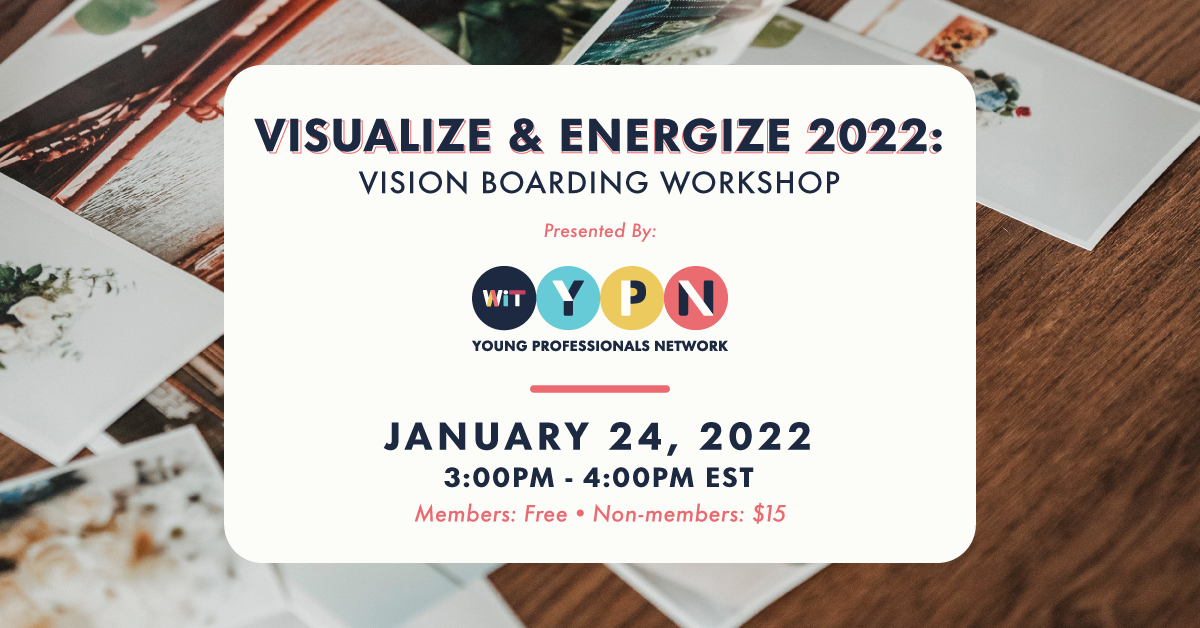 Visualize & Energize 2022:
Vision Boarding Workshop
Join us if you are ready for connection, clarity, empowerment, inspiration, and so much more for the year ahead!
New to vision boards?
A vision board is a collage of images that represent goals and dreams. They are a tool to help us gain self-awareness and self-reflect on what is important to us. ​Vision boards also help us imagine what a positive future could look like for us, especially in a new year!

We know that it can be overwhelming to create a vision board from scratch - especially when we might not have the exact inspiration and direction. That's why the WiT Young Professional's Network is hosting this dynamic vision board workshop experience that will help you with this process!
During this workshop you will:
Explore thoughtful prompts and exercises to help you reflect on 2021 wins and gain clarity around your 2022 goals.

Create a digital Vision Board with the provided templates and unleash your creativity with images, gifs, and captions to build out your board.

Develop an action plan aligned with your vision board and defined goals to make things happen in 2022!

Connect with brilliant, amazing, goal-setting, purpose-driven women like yourself!
You'll leave the workshop with:
Feeling ready, inspired, and empowered to take aligned action towards your goals.

Your digital Vision Board to remind you of what you're going to make happen in 2022 and beyond.

New connections to awesome women in toys, licensing, & entertainment all over the world.

DATE: Monday, January 24, 2022
TIME: 3:00 PM - 4:00 PM EST
PLACE: Virtual / Zoom
COST: Open to All - WiT Members - Free and Non-members - $15